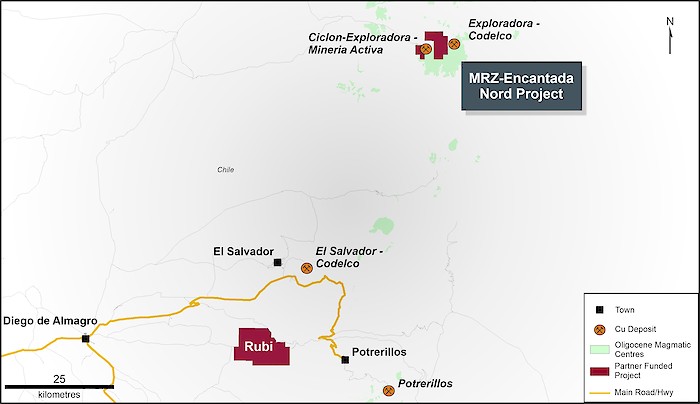 The 1,967 ha Nord project locates in Region III of Chile within the Exploradora District which lies on the western side of the NS trending, regional-scale Domeyko fault zone, and within the world-class Eocene-Oligocene Copper Porphyry belt. The project has the potential to host two main styles of mineralization, large vein type zones injected into fault structures and Cu-Au porphyry style mineralization.
The project surrounds Mineria Activa's Ciclon-Exploradora development project making them a logical buyer and this agreement will allow them to explore the Nord project for potential extensions or parallel structures to the known mineralization as well as other mineralization styles in this prospective land package.
Option Agreement
On October 31, 2019, Mirasol announced that it signed an MOU with Mineria Activa ("Mineria") for the Nord project. Mineria is a Chilean, mining-focused private equity fund with over US$150 million in assets under management. The Nord project lies adjacent to the Ciclon-Exploradora polymetallic-epithermal project, which is currently being advanced toward production by Mineria.
In September 2020, Mirasol executed the definitive option agreement with Encantada SpA ("Encantada"), an affiliate of Mineria.
Mirasol granted to Encantada the option to earn 100% of the project over 4 years by making annual cash payments totalling US$3,000,000 and completing at least US$500,000 of exploration expenditures over the first 2 years of the option period.
Upon completion of the option obligations, Encantada will have earned a 100% interest in the Project and Mirasol will retain a 2% Net Smelter Return ("NSR") royalty. Encantada has the right to buy back 0.5% of the royalty for US$3 million, exercisable within 8 years.