Mirasol holds a significant land position in the Santa Cruz province, Argentina, owning 100% or controlling exploration rights to a large portfolio of quality, low and intermediate sulfidation epithermal gold and silver projects. Mirasol was founded in 2004 on the concept of applying remote sensing to the discovery of precious metal deposits in this highly prospective under-explored terrain. Our integrated exploration and target generation process enabled us to build on our knowledge to remain at the forefront of discovery in the province.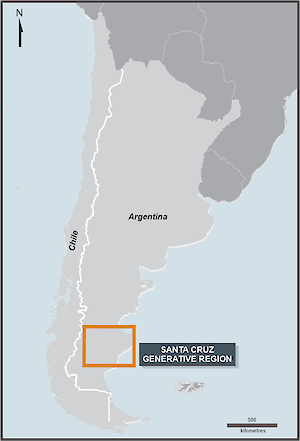 The Santa Cruz province is an attractive destination for exploration and mining investment in Argentina. The province, which had no precious metal mining history prior to the commissioning of the Cerro Vanguardia mine in 1998, is now home to seven operating high-grade gold-silver mines confirming the perspectivity of Santa Cruz for the discovery of high value gold-silver deposits.
Mirasol has a track record for success in this region; with the discovery of the Joaquin silver deposit that was sold to our Joint Venture partner in 2012 for US$60 million in cash and shares, and the discovery of the 100% Mirasol owned Virginia high-grade silver project (an open-pit constrained indicated mineral resource of 11.9 million ounces of silver at 310 g/t and a further inferred 3.1 million ounces of silver at 207 g/t1). Members of Mirasol's management team were also among the very first explorers in Santa Cruz and they have directly contributed to the discovery of a number of deposits including the world-class Cerro Negro Mine currently operated by Newmont.
Mirasol continues to execute on its strategy in Santa Cruz, identifying exciting new prospects that can be rapidly advanced into compelling drill-ready projects.
1 Amended Virginia Initial Silver Mineral Resource Estimate, February 29, 2016