Mirasol has established itself as an aggressive exploration company in Chile, building a large portfolio of 100% owned or controlled exploration claims in the Atacama Puna region. This region is a 1,700 km-long segment of prolifically mineralized Tertiary-aged volcanic arcs which host many world-class gold, silver and copper mines and deposits operated by the major mining companies. Mirasol is actively focused on three mineral belts, targeting these areas for discovery of high value mineral deposits.
Despite a long mining history, the application of advanced exploration technologies and new mineral deposit models has, in recent years, delivered several new world-class gold and copper discoveries in the region.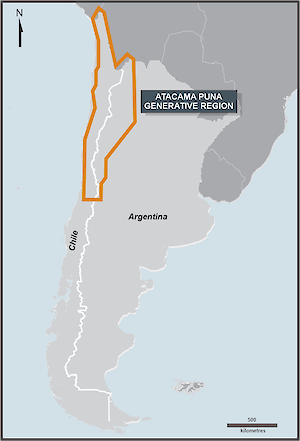 Mirasol is applying its innovative target generation approach and our in-depth knowledge of High Sulfidation Epithermal (HSE) and Porphyry systems, to explore for these large and high-value deposits. Over the last 5 years, Mirasol has made a countercyclical commitment to expand its project generation efforts, giving the company a competitive advantage in the region. Mirasol now has a full pipeline of exploration projects that are ready to be drill tested under partnerships with leading exploration and mining companies. Mirasol is also advancing two quality targets in the region toward a self-funding drilling.
The Atacama Puna generative program is focused on three highly productive mineral belts:
| Mineral Belt | Deposit Class |
| --- | --- |
| Miocene to Pliocene | High Sulfidation Epithermal Au+Ag and Porphyry Cu |
| Middle Eocene to Early Oligocene | Porphyry Cu+Mo |
| Paleocene to Early Eocene | Low- to Intermediate-Sulfidation epithermal Au+Ag and Porphyry Cu+Mo |
The Miocene belt has seen increased exploration activity following the discoveries of the multi-million-ounce Alturas and Salares Norte HSE oxide gold deposits. These deposits are large-tonnage, oxide gold resources which are believed to be bulk-minable. Both are largely concealed beneath geochemically barren, but altered, cap rocks (a steam heated cap) which obscured recognition of these deposits. Mirasol is actively exploring for this type of gold deposit at its Atlas and Titan prospect in the Gorbea Belt project, at its Altazor project, and at its other pipeline projects in its Mio-Pliocene portfolio.
The Oligocene belt hosts many giant porphyry copper mines such as the giant Escondida, Chuquicamata and Collahuasi mines. This copper belt is considered a "mature exploration terrain" but it is also recognized as prospective for further copper discoveries. This is due to its extensive post-mineral cover, and in some cases, its "geochemically barren" alteration caps concealing a substantial proportion of the most productive and logistically accessible segments of the belt.
Finally, the Paleocene belt hosts significant mines including BHP's porphyry Cu-Mo Spence mine and Yamana Gold's high-grade low sulfidation epithermal Au-Ag El Peñón mine. In this belt, Mirasol is targeting large multi-million-ounce epithermal gold and silver and large porphyry deposits.