Property Type

Porphyry Copper Project

Size

7,543 ha

Status

Optioned to Mine Discovery Fund Pty Ltd.

Exploration Stage

2,000m drill program on-going
Initial drilling, geological mapping, geochemical sampling, geophysical surveys

Location

Paleocene age porphyry belt of northern Chile
Lies at relatively low elevation within 20 km of El Salvador and Portrerillos porphyry Cu-Mo-Au mines
Year-round access
Adjacent townships with a trained mining workforce, nearby roads, power, water grid and an operating mill and smelter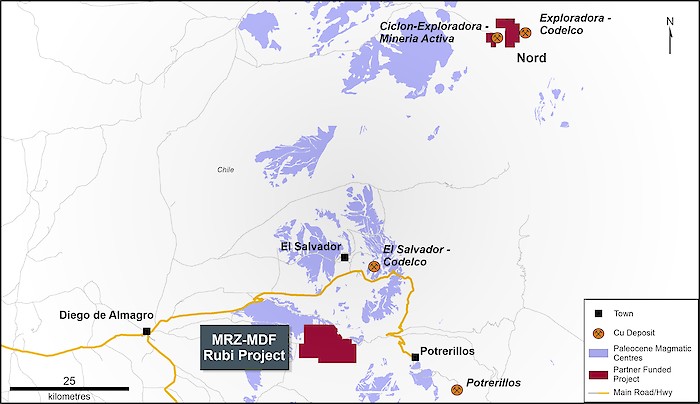 The 7,543 ha Rubi project is located within the prolific Paleocene age porphyry belt of northern Chile, which is host to a number of significant, currently producing porphyry Cu deposits. The project lies at relatively low elevation (1,900-2,100m), within 20 km of both the El Salvador Cu-Mo-Au mine and the Potrerillos smelter, with excellent access to port facilities at Chanaral located some 80 km to the west.
In a regional context, the Project has a prospective geological setting being centered on the structural intersections of the Domeyko fault system and the Ojos del Salado trans-orogen structural corridor, which is interpreted to have influenced the emplacement of the nearby El Salvador and Potrerillos deposits.
DEFINITIVE OPTION AGREEMENT
On October 15, 2020, Mirasol announced that it signed a definitive option agreement with Mine Discovery Fund Pty Ltd. (MDF) for its Rubi project.
Mirasol granted MDF the option to earn-in 80% of the project over eight years by delivering a positive NI 43-101 compliant Prefeasibility Study Report. MDF has committed to funding a 2,000 m drill program at Rubi. Following the completion of this initial commitment, MDF is required to spend a minimum of US$1 million per year in exploration expenditures over the term of the agreement.
MDF is fully funded to complete the committed 2,000m drill program at the project. Mirasol will be the operator during the option period.
Following the completion of the 80% earn-in, MDF will have a one-time option to acquire the remaining 20% interest on terms to be negotiated between the parties. If this option is not exercised, the parties will form a participating joint venture to further fund the development of the Project.
If either party's interest in the joint venture is diluted to 10% or below, it will convert to a 1.5 % net smelter returns ("NSR") royalty. The non-diluting partner can buy back 0.5% of the NSR royalty for the fair market value as determined by a qualified independent valuator.
Project Geology
Mirasol has commenced a 2,000m drill program at the Rubi project testing the two significant Cu-Mo-Au porphyry-style targets: Lithocap and Zafiro.
Lithocap
The Lithocap target at Rubi covers a 3.5 km by 2.0 km area centered on a large, deeply weathered, advanced argillic alteration zone that is surrounded by gravel cover with thicknesses modelled from a gravity survey ranging between 10 and 50m. These types of lithocap alteration zones can be found adjacent to or above large, productive porphyry Cu deposits. Drilling by Mirasol's previous partner tested areas peripheral to the outcropping lithocap exposures, where previous rock chip sampling returned anomalous values of Mo and locally Cu. This outcropping lithocap remains undrilled as does its extension to the west under shallow post mineral gravels.
The current program will drill test concealed and shallow covered, high and low magnetic responses on the western extensions of the lithocap, with 6 initial short diamond drill holes. The objective of these drill holes is to sample the top of bedrock at the interface with the gravel cover. The alteration, mineralization and rock-type information gathered from geological, geochemical, and spectral analysis will then be used to vector towards a potential centre of mineralization for testing with one deeper diamond drill hole (>500m).
Zafiro
The Zafiro target features an untested 2.8 km by 2.2 km attractive, although subtle, circular magnetic high surrounded by a partial, doughnut-shaped magnetic low under gravel-cover. This magnetic signature may be indicative of a potentially mineralized porphyry intrusive center with a peripheral pyritic alteration halo. Mirasol's stream sediment sampling of gullies located 1km north to northwest of the Zafiro target, previously returned widespread anomalous Cu (Figure 3) suggesting a primary mineralized porphyry source of Cu in the basement rocks or an "exotic" source of Cu in the gravels. The current drill program contemplates a single diamond drill hole (>400m within bedrock) to test this porphyry Cu target, estimated to be covered by up to 180m of recent Atacama gravels.
Previous Exploration Work
Between 2007 and 2012, Mirasol has completed reconnaissance exploration including stream and rock geochemical sampling, regional mapping and PIMA analysis of the prospect area. The exploration work enabled Mirasol to identify the initial Lithocap prospect.
Under a partnership with Mirasol, First Quantum Minerals (FQM) completed multiple exploration programs between 2013 and 2015 to further explore Rubi project. The programs include a 2,460 line-km, detailed, low-altitude, helicopter-borne magnetic (helimag) survey covering the entire Rubi project, property-wide geological mapping and rock chip sampling, and orientation soil sampling was also completed at the Lithocap prospect. A 6,054 m, 16-hole combined reverse-circulation and diamond drill program predominantly focused in the Lithocap area was also completed in 2015.
In 2017, Mirasol consolidated its claims holdings at Rubi and completed field evaluation and targeting programs that refined three large-scale Cu-Mo-Au targets at the Lithocap and Zafiro prospects. The targets were defined by integrated analysis, including re-logging of drill holes and the re-interpretation of geophysics and geochemistry from previous partner exploration work at Rubi.