Mirasol Advances Flagship Sobek Copper Project in Chile Towards Drilling
Located 7 kilometers directly west of Filo Mining's Filo del Sol Project
500-kilometer helicopter supported Airborne Mobile MT geophysical survey to be initiated over priority targets at Sobek Central
Construction of Sobek Central access road underway to support drilling
Drill campaign scheduled for April
Encouraging results above 1.0 g/t gold in select rock chip samples from "Maricunga Type" quartz-magnetite veinlets at Sobek Central
Multi-percent copper values recovered from select rock chip grab samples at Sobek Central targets
Expansion of strong copper-polymetallic geochemical soil anomaly concentrated over the Central Breccia Zone hosting upward transported clasts of intensely altered (quartz/sericite) quartz eye porphyry + oxide box-works after sulphides
Mirasol is exhibiting at PDAC 2023 - Booth 2118
VANCOUVER, BC, March 2, 2023 — Mirasol Resources Ltd. (TSX-V: MRZ) (OTC: MRZLF) (the "Company" or "Mirasol") is pleased to report that the 2022/23 exploration program continues to advance towards drilling at the Company's 100%-owned Sobek Copper Project ("Sobek") in Chile. Sobek was originally staked based on prospective local structural architecture prior to the 2021 discovery of the high-grade feeder zone at the Filo del Sol gold-copper deposit located 7 km to the east.
"We continue to receive impressive precious and base metals results, including multi-percentage copper, from select rock chip grab samples at Sobek Central. This high-grade mineralization on surface in the high-profile Vicuña Copper-Gold district, in combination with attractive airborne magnetic responses and very encouraging geological observations with clear evidence of advanced stage hydrothermal activity and alteration, continue to reinforce the potential for discovery at Sobek," Mirasol's President Tim Heenan stated. "The 2022/23 exploration campaign is advancing with follow-up exploration, the initiation of an airborne geophysical survey and the constriction of an access road in preparation for the maiden drill campaign at Sobek planned for April of this year'"
High Priofile Vicuña Copper-Gold-Silver District
Sobek was staked in 2016 based on the local structural architecture with a compelling north-northeast trending mineralized structural corridor crosscut by a north-northwest trending deep-seated trans-cordilleran lineament. This is a common structural configuration hosting several southern Andes metal deposits in both Chile and Argentina.
Sobek comprises a large block of properties totaling 11,120 ha of exploration claims in three strategic locations, the North, Central and South blocks. The high-profile Vicuña Copper-Gold-Silver District is developing in the Sobek area with multiple deposits in close proximity, including the Filo del Sol mid-Miocene epithermal porphyry gold-copper deposit 7 km east of Sobek; the Josemaria copper-gold project 10 km to the east-northeast of Sobek; the Los Helados Porphyry copper-gold breccia system 20 km to the northeast of Sobek; and, the giant Eocene El Morro Porphyry copper-gold deposit 16 km to the west-southwest.
Figure 1: Sobek, Emerging High-Profile Copper-Gold District Regional Map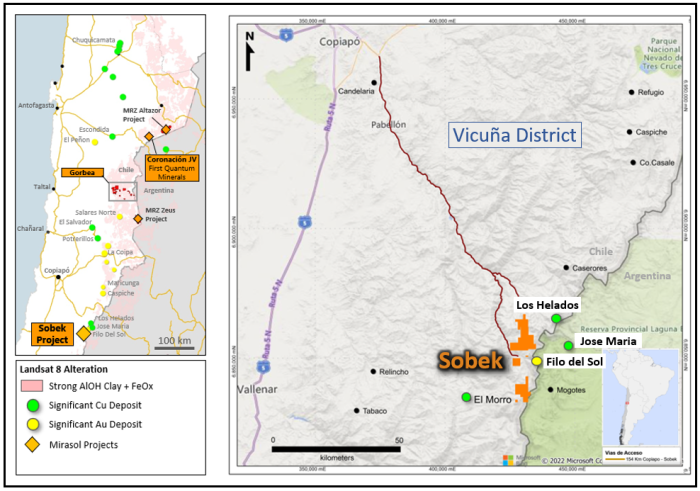 Airborne Mobile MT Geophysical Survey Planned for Sobek
Mirasol has contracted an Airborne Mobile MT survey projected to cover the entire Sobek Central area including the CLP, Central Breccia and the VN zones with tightly spaced (100m) helicopter flown lines. Airborne Mobile MT has high-definition depth penetration to greater than 800m depth below the surface and has been proven effective in defining targets in high-sulfidation epithermal (HSE) and porphyry systems elsewhere in Chile. This MT survey will aid in refining high-priority targets for the upcoming maiden drill campaign at Sobek Central.
SOBEK CENTRAL: VN-Zone Prospecting Results
Higher grade gold results (1.04 & 1.61 g/t gold) from recent select grab samples collected while prospecting in the high elevation VN-Zone at Sobek Central are very encouraging. These gold results were sourced from "Maricunga Type" quartz-magnetite veinlets with argillized margins. The M veinlets also contain anomalous values of copper (700 ppm), which is typical in gold-copper "Maricunga Type" porphyry deposits. A more detailed mapping and sampling campaign is currently underway to better understand the significance of these encouraging high-grade results and the geological environment and controls on mineralization.
Figure 2: Anomalous Gold in Select Rock Samples from the VN Zone
SOBEK CENTRAL: Green Wall Zone Extended Further to the East-Southeast Along Trend
Results from recent select grab samples collected at the Green Wall Zone has extended the mineralization 1,000m to the southeast towards the edge of the Central Breccia Zone. The structure in this zone appears to narrow and is represented by quartz stringers and centimeter scale veinlets hosting visible green copper mineralization returning results above 1.0% copper. A new narrow "seam", now called the Grieta Verde Zone, further to the south of the CLP-Zone and somewhat oblique to the Green Wall Zone, has returned encouraging copper values with highly anomalous gold averaging 0.25 g/t gold from the 10 select grab samples collected from this area. This narrow "seam" injected into the hosting sediments is similar to that seen in the Green Wall Zone, which is also hosted in the sediments on the north side of the CLP-Zone. At Grieta Verde, the copper mineralization is also present in the hosting sedimentary conglomerates and appears to have been concentrated in and around the clasts within the sediments. While neither of these zones represent potential stand-alone targets, the high-grade copper values with associated gold within the hydrothermal system is potentially sourced from a larger concealed body under either the CLP or the Central Breccia zones, which will be the focus of the maiden drill campaign.
SOBEK CENTRAL: Expansion of Polymetallic Soil Anomaly
The Sobek Central soil sampling grid was expanded to infill and increase the coverage 450m to the southeast of the Central Breccia Zone. The expansion and infill of the soil grid shows a clear extension of the Central Breccia polymetallic soil anomaly to the southeast and appears to highlight a copper halo around the main breccia body with a strong lead/zinc anomaly directly above it (see figure 3). Another widespread copper soil anomaly appears to be emerging to the southeast of the Central Breccia Zone beyond a 250m "quiet" zone. This copper soil anomaly is emerging with some continuity, coincident with smaller areas of anomalous lead, zinc, silver and gold. Sampling crews will be continuing to advance the soil grid further to the southeast and on to the south to cover the area which host the gold-bearing veins at the VN-Zone.
Figure 3: Sobek Central – Expansion of the Multi-element Coincident Geochemical Soil Anomaly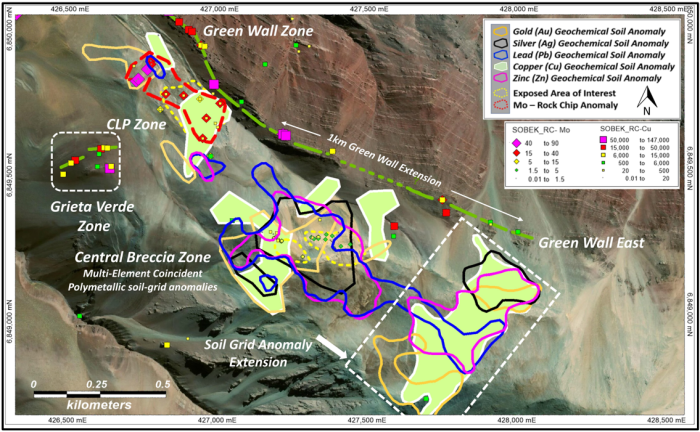 SOBEK NORTH: El Potro Prospect
The El Potro Zone at Sobek North is located approximately 5 km directly west of the NGEX Potro Cliffs project in Argentina. The newly encountered areas of interest within the El Porto Zone host a system of veins and veinlets of pyritic bearing quartz veins with Chrysocolla (copper-silicate). Exploration crews are currently mapping and prospecting the area and the first batch of samples are with ALS laboratory for analysis.
Preliminary geological observations are highly encouraging and suggest the presence of large Paleocene aged granitic bodies cut by what appears to be younger intrusives (Mio-Pliocene) of Syenitic and Monzonitic composition hosting fine sulphides forming "clots" within the matrix. Aphanitic intermediate pyritic dykes also cut the granites in a northeast direction, and host fine sulphide-rich veinlets with copper oxides cutting the dykes at a perpendicular angle. In addition, sub-angular float blocks within the creek beds contain molybdenite and traces of chalcopyrite hosted within what appear to be the younger intrusive rocks. The source of these floats is currently being investigated. The El Potro access road is scheduled for rehabilitation once the Sobek Central access road has been completed to allow vehicle access to the higher elevations of the El Potro prospect.
Table 1: Updated Sobek Central Select Rock Chip Grab Sample Geochemical Results
Note: Significant assay results from select rock chip grab and float samples collected from the exposed dyke structure.
Mirasol at PDAC 2023
Mirasol will be participating at the PDAC 2023 convention in Toronto and invites you to visit us at Booth 2118 (Investors Exchange) in the South Building, Metro Toronto Convention Centre from March 5-8, 2023.
About Mirasol Resources Ltd
Mirasol is a well-funded exploration company with 18 years of operating, permitting and community relations experience in the mineral rich regions of Chile and Argentina. Mirasol controls 100% of the high-grade Virginia Silver Deposit in Argentina and is currently self-funding exploration at two flagship projects, Sobek and Inca Gold, both located in Chile. Mirasol has three partner-funded projects, with First Quantum Minerals and Mine Discovery Fund in Chile, and Patagonia Gold in Argentina. Mirasol also continues to advance a strong pipeline of highly prospective early and mid-stage projects.
For further information, contact:
Tim Heenan, President
or
Troy Shultz, Vice President Investor Relations
Tel: +1 (604) 602-9989
Email: contact@mirasolresources.com
Website: www.mirasolresources.com
Qualified Person Statement: Mirasol's disclosure of technical and scientific information in this press release has been reviewed and approved by Tim Heenan (MAIG), the President for the Company, who serves as a Qualified Person under the definition of National Instrument 43-101.
QAQC: Mirasol applies industry standard exploration sampling methodologies and techniques. All geochemical rock chip, soil, and stream sediment samples are collected under the supervision of the company's geologists in accordance with industry practice. Geochemical assays are obtained and reported under a quality assurance and quality control (QA/QC) program with insertions of controls (standards, blanks and duplicates) submitted to the laboratory. Samples were dispatched to ALS Global - Geochemistry Analytical Lab, in Santiago, Chile, an ISO 9001:2015 accredited laboratory, which is independent from the Company. Rock chip samples (1-3kg) were prepared with PREP31, and analysed by Au_ICP21 and ME-MS61. The soil samples were prepared with PUL-31, analysed by Au_ICP21 and ME-MS61. Assay results from rock chip, soil stream sediment, channel, trench, and drill core samples may be higher, lower or similar to results obtained from surface samples due to surficial oxidation and enrichment processes or due to natural geological grade variations in the primary mineralization.
Forward Looking Statements: The information in this news release contains forward looking statements that are subject to a number of known and unknown risks, uncertainties and other factors that may cause actual results to differ materially from those anticipated in our forward-looking statements. Factors that could cause such differences include: changes in world commodity markets, equity markets, costs and supply of materials relevant to the mining industry, change in government and changes to regulations affecting the mining industry and to policies linked to pandemics, social and environmental related matters. Forward-looking statements in this release include statements regarding future exploration programs, operation plans, geological interpretations, mineral tenure issues and mineral recovery processes. Although we believe the expectations reflected in our forward-looking statements are reasonable, results may vary, and we cannot guarantee future results, levels of activity, performance or achievements. Mirasol disclaims any obligations to update or revise any forward-looking statements whether as a result of new information, future events or otherwise, except as may be required by applicable law.
Neither the TSX Venture Exchange nor its Regulation Services Provider (as that term is defined in the policies of the TSX Venture Exchange) accepts responsibility for the adequacy or accuracy of this release.