Property Type

Multiple prospects identified to date with various mineralization styles, including:

▪ Polymetalic Intermediate Sulfidation Epithermal veins

▪ Porphyry Cu-Au

▪ Quartz-tourmaline Breccia Cu-Au

Size

16,300 ha

Status

Controlled through an option agreement with Newmont Corporation

Exploration Stage

Reconnaissance exploration on Caldera, Vania and Rincon prospects

1,500m diamond drill program completed on Sandra prospect

Location

Located on the Paleocene belt of Chile
100 kilometers north of Copiapo
17 kilometers east of the town of Inca de Oro
Altitude of 2,000 to 3,000 meters ASL
Year-round access and near infrastructure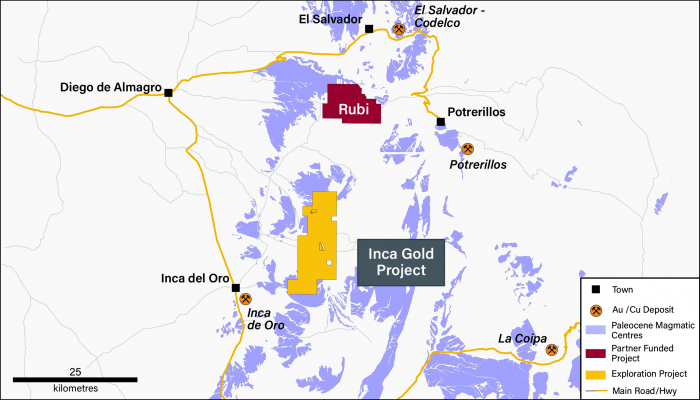 The 16,300 ha Inca Gold project is located in Region III of Chile, approximately 100 km north of Copiapo, and within the Inca Del Oro mining district that hosts both Santiago Metals Delirio Cu/Au mine and PanAust/Codelco's Inca de Oro Cu/Au porphyry deposit. The project has year-round road access and near infrastructure for exploration activities.
Initial exploration by Mirasol at the Inca Gold project has been focused on the Sandra prospect, where the company completed a 1,500m maiden drill program in Q2 2021. Reconnaissance exploration has been initiated on the Caldera, Vania and Rincon prospects.
Agreement with Newmont Corporation
On January 13, 2020, Mirasol announced that it signed an option agreement with subsidiaries of Newmont to acquire the Inca Gold project in Northern Chile.
Mirasol was granted the option over 5 years to earn 100% of the project, subject to a 1.5% NSR royalty, by drilling 1,000 meters over 2 years; and incurring US$3 million in exploration expenditures over 5 years. Mirasol can terminate the agreement at any time after the completion of the initial 1,000 meters drilling commitment.
Upon completion of this option, Newmont will have the right to earn back 70% of the project, in two stages, by paying in cash US$3 million to Mirasol; and delivering a NI 43-101 compliant Prefeasibility Study reflecting a resource of no less than 2 million ounces of gold-equivalent using agreed upon cut-off grades; or incurring an additional US$21 million in exploration expenditures over 6 years.
Geology Highlights of the Key Target Areas
The Inca Gold project lies within the Paleocene Belt that hosts both intermediate (El Peñon, Faride, Amancaya) and high (Guanaco) sulfidation epithermal deposits, as well as copper porphyry deposits (Spence, Sierra Gorda).
Local geology on the southern portion of the project is characterized by a thick volcanic-sedimentary sequence consisting of ignimbrites, lava flows, and volcanic breccias. The northern portion consists of an older sequence of intensely folded and faulted ignimbrites and volcanic breccias. These two geologic domains are separated by a regional NE lineament mostly covered by Atacama Gravels.
Initial surface and prospecting activities have identified five target areas (Rincon, Guerda, Inca North, Sandra and Vania) - none of which were drill tested prior to Mirasol's involvement.
Sandra prospect
The Sandra prospect at Inca Gold was the first zone to be tested with a 1,417m drill program. A total of eight diamond drill holes were completed on three separate targets to test for mineralization below outcropping quartz veins. The assay results for Au and Ag are generally low grade and over narrow widths, ranging from 0.5 to 1m. The highest values were in hole IG-DD-004 that returned 0.27 g/t Au and 47.8 g/t Ag over 0.5m (June 30, 2021 news release).
Vania Prospect
The compelling Vania porphyry Cu-Au prospect is delineated by multi-layered exploration data collected by Newmont prior to the option agreement with Mirasol. Vania hosts a strong, central Au Deep Sensing Geochemistry score ("DSG") anomaly with a peripheral anomalous multi-element geochemical halo, highlighted by Newmont's proprietary in-house geochemical processing technique. This geochemical signature is coincident with a prospective structural intersection of northwest and northeast trending lineaments, and overlies a magnetic low feature interpreted as potentially representing magnetic destruction resulting from alteration and mineralization events. Mirasol's assessment of Vania will include an expanded soil geochemical survey and a systematic induced polarization ("IP") geophysical survey over the existing Au DSG anomaly.
Rincon Prospect
The Rincon prospect is located approximately 7 km northeast of the Delirio Cu Mine and represents a window through the Atacama gravel cover where mineralized quartz-tourmaline crackle breccias have been mapped. The current known extent of the breccia is approximately 700x200m and prospecting level geochemical samples from Newmont returned anomalous Au assays from narrow quartz veins and Cu-Mo assays from hydrothermal crackle breccias. This breccia target is considered attractive due to its similarities with the other mineralized tourmaline breccias in the district which hosts economic Cu-Au grades.
Caldera Prospect
Reconnaissance mapping and geochemical sampling surveys have been completed at the Caldera prospect, which is located immediately to the south of Sandra. Survey work has identified a promising mineralized polymetallic intermediate epithermal quartz vein structure outcropping over 1.3 km, with widths ranging up to 1.2m. Historical artisanal workings have also been recognized along the length of this structure. In addition, isolated quartz vein outcrops are exposed through colluvial and alluvial cover along strike, to the northwest and the southeast, which could extend the structure to over 3.0 km in length. These vein outcrops and subcrops are hosted within a prominent structural lineament that can be readily traced on the high-resolution satellite images. Abundant Cu minerals including Cu-oxides, chrysocolla (Cu-silicate), chalcopyrite (Cu-sulphide) and locally galena (Pb-sulphide), accompanied by numerous zones with strong Fe-oxide development, are evident over the extent of the structural trend.