Property Type

LSE Gold Silver Project

Size

30,600 ha

Status

Self-funded Exploration

Exploration Stage

2,600m drill program completed
Geological mapping, rock chip sampling, IP geophysics and soil grid sampling

Location

Jurassic age volcanic rocks of the Deseado Massif in north-central Santa Cruz province, Argentina.
Low altitude - 1,000 meters ASL

Ownership

24,900 ha 100% owned by Mirasol,
5,700 ha controlled by Mirasol under an option to purchase agreement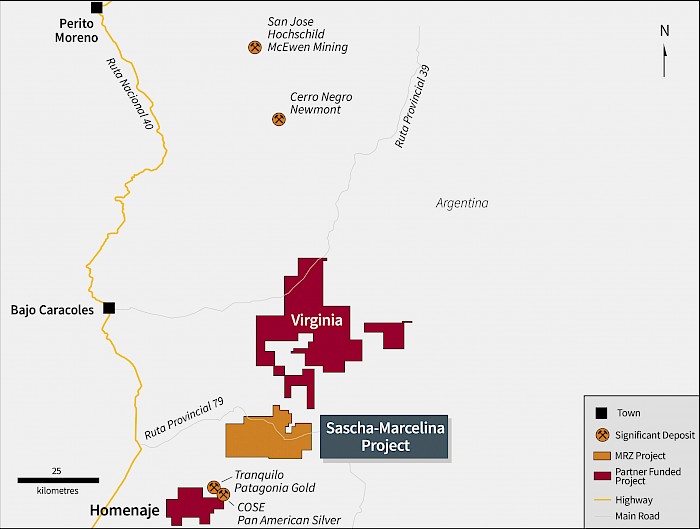 Sascha Marcelina is a 30,600 ha LSE gold-silver property located at the north-central part of Santa Cruz in Argentina. The project is conveniently accessible to the provincial road, Ruta 39, and with potential trucking distance of the multiple mine facilities.
The project is located 100 km south of Newmont's Cerro Negro mine and displays similar geologic and geomorphic settings. Anomalous rock chip Au+Ag assays and Aster satellite alteration anomalies have defined a large-scale, zoned alteration system characteristic of an LSE Au+Ag system. Multiple, multi-kilometre long, mineralized vein and silicified breccia trends have been recognized across the project.
Mirasol has defined a series of new highly prospective, large-scale targets that are supported by a prospective geological setting, widespread indications of Au and Ag mineralization, and near surface, coincident geophysical anomalies. The combination of these features strengthens the potential for better mineralized Au-Ag veins at depth.
The completed drill program at Sascha Marcelina includes 15 diamond drill holes for 2,600m in the three prioritized prospect areas. Eight drill holes were collared along Estancia trend, four along the principal structures at the Pellegrini prospect, and three at the Igloo trend. Results will be reported as they have been received, reviewed and interpreted.
Option to Purchase Agreement - Property Claim Consolidation
In early 2019, Mirasol consolidated the large prospective Sascha-Marcelina property by signing an option to purchase agreement for the 5,700 ha from a privately-owned mining company.
Mirasol can acquire 100% of the 5,700 ha claims by making staged option payments totalling US$3.4 million over four years, with US$3.15 million due on the 4th anniversary. If the option is exercised, the Marcelina claims will be subject to a 1.5% NSR royalty. There is a minimum US$300,000 exploration spending commitment by Mirasol during the first three years of the option period.
2021
Mirasol completed a 2,600m drill program in Q2 2021. The program is focused on quality targets at the Estancia, Pellegrini Silica Cap and Igloo prospects, which are characterized by coincident large-scale outcropping alteration, anomalous rock chip geochemistry and Induced Polarization ("IP") geophysical anomalies. These prospects have not previously been drilled tested.
The Pellegrini Silica Cap is interpreted to represent the upper levels of the mineralized system, while the southern part of the Estancia trend (Estancia Sur) represents the deepest level of the epithermal system known to date and exposed at surface. Estancia Sur has, to date, reported the best mineralization at surface, which is hosted in the prospective lower Chon Aike stratigraphical unit characterized by strongly welded and brittle ignimbrites. This lower-level stratigraphic unit is also the target for better mineralized zones further to the north along the Estancia trend (Estancia Central and Estancia Norte), as well as at the higher-level targets at the Igloo trend and Pellegrini silica cap prospects.
In preparation for drilling, Mirasol completed a 39 line-km of IP Pole-Dipole ground geophysics survey at the Estancia, Pellegrini, and Igloo prospects. Significant chargeability and resistivity anomalies have been defined, indicating the possible presence of sulphides and silica bodies, which could represent zones of hydrothermal alteration and mineralization at shallow depths. Mirasol has incorporated this geophysical data with the results from the surface exploration completed during the previous field seasons to define priority drill targets. (see news release April 15, 2021)
2019/2020
In 2019, Mirasol signed an option to purchase agreement for 5,700 ha claims from a privately-owned mining company and consolidated the large prospective Sascha-Marcelina property under one company for the first time.
Following this consolidation, Mirasol completed an integrated interpretation of district-scale exploration data sets collected prior to 2009. Anomalous rock chip Au+Ag assays and Aster satellite alteration anomalies define a 16.5 x 4.0 km (65 km2) "footprint" to the district, showing a large-scale, zoned alteration system characteristic of a large LSE Au+Ag system. Five, multi-kilometre long, mineralized vein and silicified breccia trends have been recognized to date across the consolidated district. The trends traverse the Pellegrini Silica Cap, or outcrop through post-mineral gravel and basalt cover that surrounds the Silica Cap.
The geologic and geomorphic setting of the Pellegrini Silica Cap and related silica structures and veins is analogous to the setting of the Cerro Negro Mine, which is a high grade, low-cost underground mine operated by Newmont and located approximately 100 km to the north of the Sascha-Marcelina project.
Interpretation of mapped volcanic and sedimentary stratigraphy, Au+Ag and multi-element geochemistry and alteration mineralogy shows that different levels of the epithermal system outcrop across the district, exposing what are interpreted to be different levels of the mineralized column of an LSE Au+Ag system.
The surface exploration activities completed on the Sascha-Marcelina project (see news release July 18, 2019) include geological mapping aided by the acquisition of drone supported high-resolution base images, detailed rock chip sampling, extensive soil grid sampling (with PXRF sourced geochemistry) and the acquisition of alteration data using in-house handheld ASD (Analytical Spectral Devices) technology on all of the rock chips and soil samples collected to date. New prospects were recognized, with the "Estancia trend" and the "Igloo trend", both located in close proximity to an extensive Pellegrini Silica Cap, which is interpreted as representing the preserved fossil paleosurface of a low sulfidation system.
A total of 422 new rock chip samples have been collected from within the Marcelina area with assays averaging 0.25 g/t Au and 2.46 g/t Ag and up to 27.7g/t Au and 121g/t Ag, taken from epithermal silica vein/veinlets and silica-hematite hydrothermal breccias. These precious metal values are accompanied by highly elevated epithermal pathfinder elements including arsenic, antimony, tellurium, and anomalous lead and zinc.
BEFORE 2009
Mirasol staked the Sascha Project in 2003 to secure the 5 km long Sascha Vein Zone, which was partially drill tested on the western end while under an exploration agreement to Coeur Mining ("Coeur") from 2006 to 2009. Coeur terminated the agreement in 2009 and returned 100% of the project to Mirasol.
Coeur's exploration program included:
356 line-km of detailed ground magnetics,
24 line-km of gradient array geophysics,
3,400 m of infill trenching and mapping, and
32 shallow diamond holes (average depth 135 m) in 2 campaigns for 4,333 m along the 4.5 km, NW trending epithermal Au-Ag mineralized Sascha Vein Zone and two shallow holes at Sasha Sur.